L'Ultimo Uomo (Dario Saltari) Monchi's newest signing for Roma is Cengiz Ünder, a talented but little known player.
The club's Financial Fair Play constraints, as well as the effects of Sabatini's transfer policy, have forced Monchi to start his time in Rome with a number of painful sales. 3 important players – Rüdiger, Paredes and Salah – have been sacrificed at UEFA's altar, and the Spanish director has also had a difficult start in his relationship with the media; he has tried to break ties with Sabatini's previously long-winded and cryptic communication strategy by heavily emphasising his desire to start winning immediately: "Roma doesn't have a 'for sale' sign around its neck, it has one that says 'for winners'."
And this is partly why the name of Cengiz Ünder, the Turkish winger born in 1997, has not excited many Romanisti. Ünder is coming from a lesser league, he is very young, perhaps talented but little known to most people: in some ways, it seems like a return to the recent past, to the excitable but foolish transfer strategies of Walter Sabatini, confirmation that the club are looking for cheaper alternatives not only compared to the biggest clubs in Europe but also to their Italian competitors.
Cengiz Ünder came through the youth system at Altinordu, who he joined aged 15; the Izmir-based team are trying to use their youth setup to end the decline of Turkish football's technical qualities. In recent years, the most talented Turkish players have primarily come from the diaspora (Calhanoglu, Emre Mor, Ozyakup are just a few examples of Turkish internationals who were born and raised abroad), but Altinordu have been investing in their academy with the ambition of having a starting 11 entirely made up of youth team products.
In the Turkish second division, Ünder played for the first team for 2 seasons, from 2014 to 2016, scoring 11 goals and making 9 assists in all. His form convinced Istanbul Basaksehir, the city's 5th club, to invest around €700,000 in him.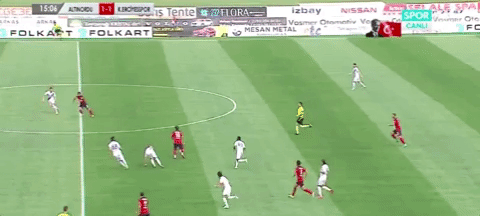 One of the 11 goals he scored during his time with Altinordu.
At Basaksehir, Ünder quickly established himself in the first team, which played a fluid and innovative style in a 4-2-3-1 shape under coach Abdullah Avci, and played a major role in the Istanbul club's incredible season last year, when they seriously challenged Galatasaray, Fenerbahce and Besiktas' hegemony in the Turkish league (the only other team to win the league other than them in the last 33 years was Bursaspor in 2010). In the end, Besiktas prevailed last season, finishing 4 points ahead of Basaksehir (where Adebayor has been reborn), though Avci's side will still be in the Champions League play-off round next season (they have never achieved this before in their short history).
In order to be a top level team, Basaksehir worked very hard off the ball, not worrying when they were out of possession: they played with their defensive and midfield lines very close together, aggressively defending deep in numbers and only pressing higher up the pitch at certain times, before attacking through the centre with speed.
In this setup, Ünder played out wide on the left hand side, although the 3 attacking midfielders actually had a lot of freedom in their roles, and were free to switch positions amongst themselves during the game. Either way, during the frequent periods of the game when Basaksehir found themselves without the ball, Ünder was the forward who dropped back furthest, and most often, when Avci's team decided to defend deep; he would drop back so far he would become part of the defensive line to create a temporary 5-3-2 shape.
Ünder isn't lazy when he has to defend and play without the ball, even if he is more comfortable when attacking the opposition further up the pitch, but he can switch off at times when he has to defend his area of the pitch or follow an opponent's run.
While he loves having the ball at his feet and creating the play, Ünder isn't a static player without the ball when he plays further up the pitch, and he has great variety in his movements despite his young age.
The style of their play off the ball is probably the most obvious point of comparison between Ünder and Salah. The former Basaksehir player clearly doesn't have the Egyptian's explosive acceleration, nor his exceptional pace, but his runs to cut in behind the opposition defence are just as cleverly timed, a characteristic of his play that Di Francesco will certainly like.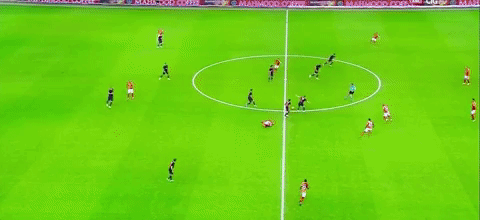 A little insight into how Ünder plays: first he runs deep, creating space between the lines; he frees himself from his marker with a drop of the shoulder; he makes a direct run to get close to goal; and finally he tries to nutmeg his man to get into the area but is stopped.
The Turkish winger loves to play high up the pitch, and last season would often play so high up that he ended up acting more as a second striker next to Adebayor, with whom he developed a close understanding on the pitch. The Togolese striker spoke very highly of him, while he earned even higher praise from Emre Belozoglu who called him one of the leading talents in Turkish football.
The fact he likes to be in the penalty area so often, combined with great self-belief, explain why Ünder's goalscoring record stands out (he scored another 9 goals in all competitions this year), despite the fact his physique sometimes prevents him from being as decisive in front of goal as he could be. His aggression in attacking the box.
Ünder knows how to move towards the ball, in tight spaces and between the lines, and is also very good with his back to goal, even though his slight physique doesn't help him (1.73m tall, around 65kg).
It's the way in which he uses his body, particularly to protect the ball, which is perhaps Ünder's greatest asset, the characteristic that that is already making him into an excellent player.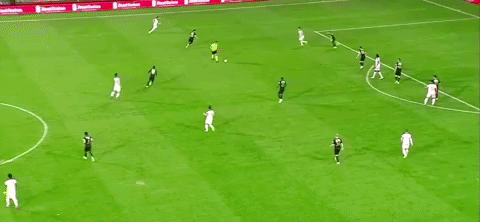 Here, Ünder is able to make his marker stagger like a drunk with a simple movement with his body. Then he slides a beautiful pass forward for the full back to run onto.
By having good technique on his weaker foot, his right, as well, he can threaten opponents on both wings, moving past them with a simple movement with his body. He is one of the few players who are able to deceive opponents with the same feint time and again: first making out as though he is running up the pitch before cutting back inside, usually onto his left foot.
Ünder has exceptional close control, which allows him to ready a shot or beat his marker with a single touch. The occasions when he is able to combine his close control with his other strengths, such as his long-range shooting, are the occasions when his talent is most clearly on show. He beats his marker with one touch off his left foot, before beating the keeper with a right-footed shot into the far corner.
But it's how he plays on the ball that must have caught Monchi's eye. Ünder's control with his left foot is like velcro, and his ability to read the game and his tactical perceptiveness allow him to find his team-mates in almost any way. His creativity seems to have a lot of room for improvement though, given that his statistics for key passes are currently pretty average (1.2 every 90 minutes).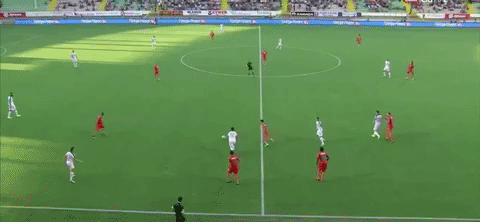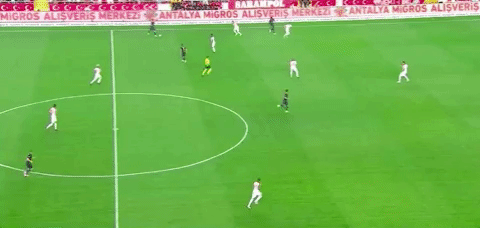 The potential is there.
Ünder has almost unlimited confidence in his own ability and he is constantly tempted by the most difficult of options. For example, he often shoots from long range even off his weaker foot, even though his shooting technique with his right foot is still fairly rudimentary.
One of his goals that has been shared more than any other, once he was first linked with Roma, was a looping right footed shot aimed towards the far post. It was closer to a chip shot in golf as the player tries to find the green than to a proper curled shot.  Technically it wasn't perfect, but as long as the ball finds the net there's nothing wrong with it.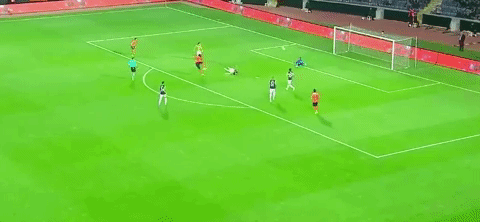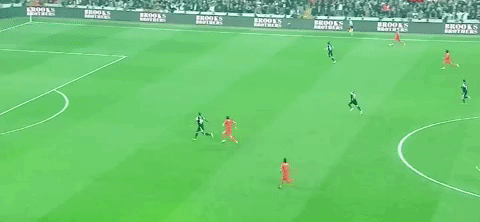 Examples of how his right foot can be effective, if not pretty.
His ambition is, at the same time, his greatest strength and his greatest limitation, it's what makes him spectacular but also quite immature. Ünder isn't yet 20 years old and still thinks that he can do whatever he wants: he isn't a selfish player but his continual search of the most difficult option makes him a risky player at the very top level of the game, where even the most apparently simple choices could make the difference.
Since he still does what he wants to do, he often tries to nutmeg players or look for other difficult ways of beating an opponent, which often lead him to lose the ball in very dangerous areas of the pitch for his team.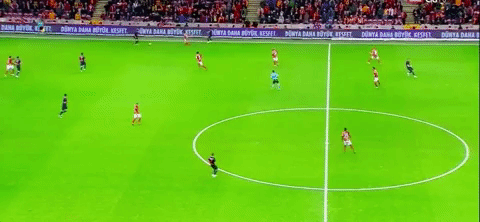 Saved by the defence.
But his decision-making in general needs to improve: to understand what to do and when to do it is one of football's most intangible qualities, but in the end it's what makes the difference between a circus performer and a great champion.
For example: run into a cul-de-sac on the wing by trying to beat 2 players, or play the ball backwards and try to go forward as a team?
At the moment, this is the answer: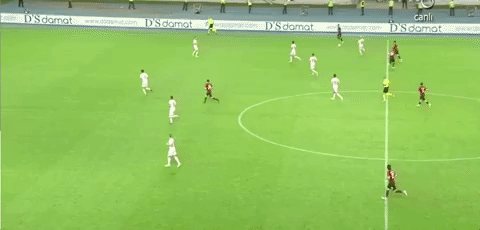 He is only just starting to mature, of course, but at the moment we don't know if his talent will adapt to a league that is so obsessed with pragmatism.
In the meantime, we can say that Monchi has succeeded in signing another player who has a special talent on the ball and a wonderful ability to create play. After the signings of Karsdorp, Moreno and Gonalons, it seems that – rather than age, previous clubs or physical fitness – Roma's decisions in the transfer market are being guided by creative ability, the ability to personally influence the play at any time, guaranteed by the players' own technical capabilities. Ultimately, ambitious teams are made up of ambitious players…